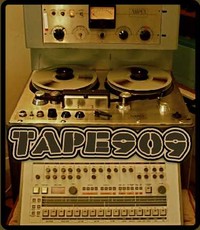 Goldbaby has released Tape909, a sample pack featuring the famous Roland TR-909 drum machine.
This is 1446 samples taken from a mint 909 recorded into an Ampex 351 1/2″ valve 2 track tape machine!

That's not all… We also put the 909 through other vintage gear. Plus we recorded it naked into a Metric Halo ULN-2 firewire audio card. Then we chose the best samples. All 24 bit, and all solid 909 goodness!

If you can't get a hold of a real 909 then this is as close as you can get in samples… Maybe even better than the having the real thing!
Tape909 is available in the following formats: Refill / Battery / Guru / iDrum / Sample pack. The sample pack costs $19 USD, while the other formats are $24 USD each.
Visit Goldbaby Productions for more information and audio demos.