Gospel Musicians has announced the release of FM TiNES for iPad, a versatile, unique and exhaustive FM electric piano library for iPad.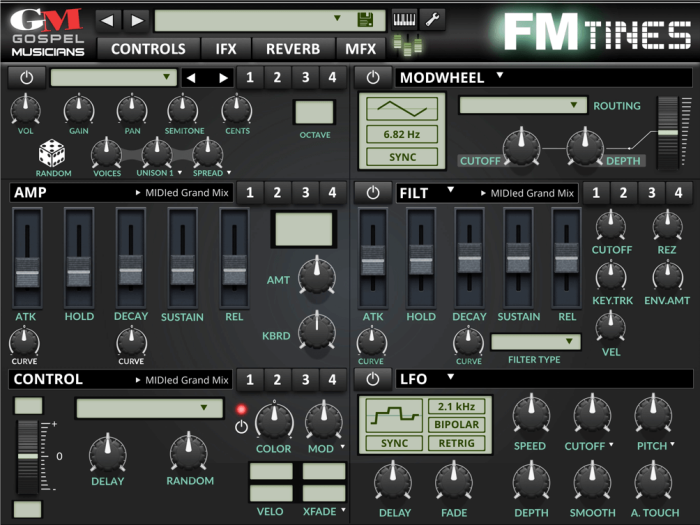 FM TiNES is an electric piano library dedicated to the most beautiful FM electric pianos ever made. We know as musicians ourselves, that there is nothing more inspiring than the belly, crystal-like, tine sound of an FM electric piano. We ran through the entire 80's gamut of the most beautifully expressive, rich, warm, and inspiring electric pianos ever made.

The magic of our software is the expressiveness. We went to great lengths to make sure that all of our pianos are full of life, expression, warmth, and beauty, but providing an analog filter than can be controlled by velocity, and a color mod that will change the color and tone of the mod per velocity. When you combine both of these together, you create a very expressive electric piano sound that seems to change the tone on each and every keyboard touch.

From beautiful tine stacks and layers, to wonderfully rich string and pad stacks, this will be your go-to library for all of your pretty electric piano needs.
FM TiNES for iPad features
AUv3.
IAA.
Virtual MIDI.
109 High Quality Presets.
105 Total Sounds.
Favorite Preset Saving.
Dimension D Type Chorus.
Two Types of Stereo Spread.
Lush Reverbs.
Random Preset Generator.
The app is on sale for the intro price of $6.99 USD until July 20th, 2019. The regular price is $14.99 USD.
More information: Gospel Musicians