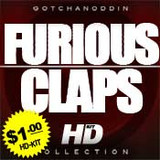 GotchaNoddin.com has released Furious Claps, a collection of high definition clap samples.
Angry, mad, Hard Hurtin Furious Clap Samples designed to bring the angry oomph to the music production process. Use these clap samples to take beats to the next level. Furious Clap Samples bring 16 high definition mastered sounds in 32, 24, 16bit and 44.1kHz format for only a $1.

Value at a great price, these clap samples can be used for seasoning and unique sound design on Hip Hop, RnB, Reggaeton, Latin, Dance or any style track.
Furious Claps HD features
16 samples in 32, 24, 16bit and 44.1kHz format.
Pre-programmed with 1 program file to load with the Akai MPC 500, Akai MPC 1000, Akai MPC 2000/XL (1 Floppy Disks), Akai MPC 2500, Akai MPC 3000 (1 Floppy Disks), Akai MPC 4000, Akai MPC 5000, Roland MV 8000, Roland MV 8800, Reason Refills, Korg Triton (1 Floppy Disks) and can be imported into the Roland Fantom Series Keyboards and the Roland MC-909 (with additional RAM installed).
Patch files to Native Instruments Battery, Kontakt, Apple Logic EXS 24 .exs, Steinberg Halion are included when choosing the Wav Samples / Maschine Samples format.
Furious Claps HD is available to purchase as a download for $1 USD.
More information: GotchaNoddin.com