Gothic Instruments has announced details of its latest DRONAR module Orchestral Woodwinds, which will be released soon. Orchestral Woodwinds is the 14th title in the increasingly popular DRONAR Series.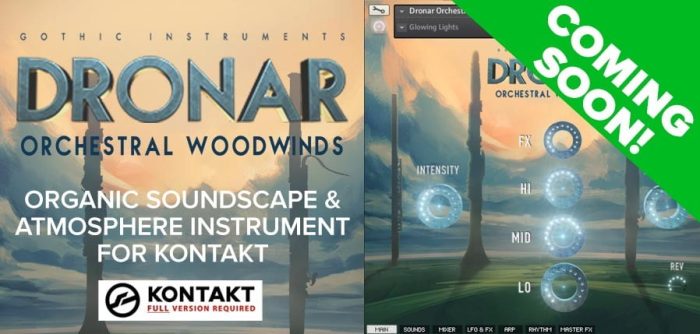 DRONAR Orchestral Woodwinds creates mind-expanding atmospheres from a very small number of notes played (1 to 4 recommended). It automatically spreads out the chord in the mid-range, adds a root bass note, a high note and then adds evolving sound effects.
Eight simultaneous different sounds are then animated with LFOs, a rhythm sequencer and arpeggiators to bring them to life. The results are rich and dramatic.
Orchestral Woodwinds will be added into the Gothic Instruments Complete Bundle and the Gothic Instruments DRONAR Bundle in due course.
The Kontakt library will be available from Time+Space at a 20% intro discount and existing Gothic users will be able to use their loyalty points to save even more.
More information: Gothic Instruments