Time+Space has announced the release of Dronar Master Edition, the latest cinematic virtual instrument by Gothic Instruments.
The new title for the free Kontakt Player takes the first eight modules of the Dronar product line to a whole new realm, offering near infinite possibilities for creating atmosphere, ambiences, textures and more.
This immense 50GB collection of sounds includes over 2,000 presets for you to create and play highly expressive pads, patterns, textures and atmospheres for any genre. What's more, it's all packaged in a new, fast-loading, more efficient engine with powerful features to tweak the sounds as little or as much as you want.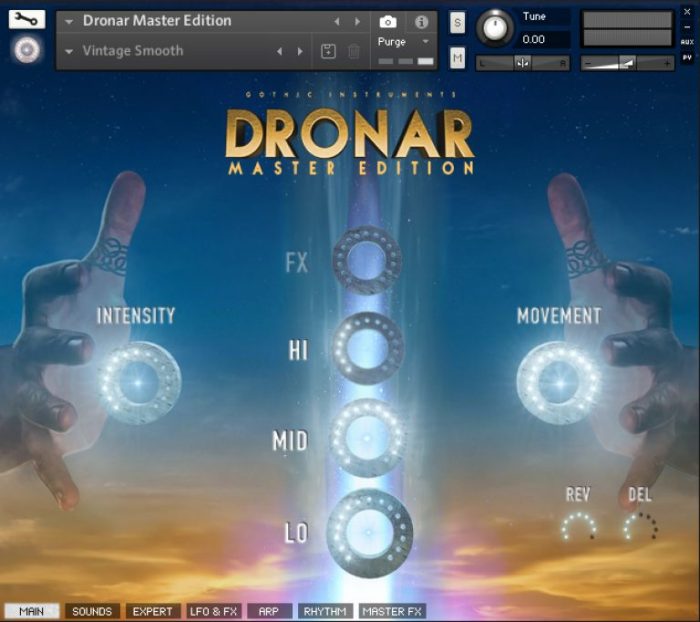 The Sounds
Strings to synths, brass to glass, environmental noises and synthetic textures… you can craft a rich world of sound to take your listeners on an emotive journey ranging from terror and unease to one of calmness and tranquility.
Dark and chilling atmospheres, unsettling synth-based soundscapes, '80s futuristic Nu Wave elements, ethereal and ambient textures, uplifting glacial tones, beautiful pads, and much much more… the variety of audio in DRONAR Master Edition is simply outstanding.
Mix and Match
Combining eight modules in one instrument means that each preset (layered live from 8 different sounds) can now mix and match thousands of raw sounds into endless new combinations. It's a vast playground covering a wide range of instruments and sonic terrains waiting to be explored. Press the 'Randomise Samples' buttons and let DRONAR provide the inspiration for you!
Dive in
Seven pages of controls give you the ability to tweak as much or as little as you prefer (or as much as your deadline allows!). Change the patterns of the rhythm samples with the Rhythm Editor, get sounds really moving or pulsing over time with the Arpeggiator, animate with LFOs and effects, and more!
Faster and no additional software to pay for
DRONAR Master Edition has been developed for the free Kontakt Player – so you don't need to buy additional software to use it! What's more, it features a new, fast-loading, more efficient engine so they'll be no annoying interruptions to your creative workflow.
NKS compatible
NKS compatibility makes it even easier to browse, play, and control DRONAR Master Edition. Hear instant audio previews as you scroll quickly through the hundreds of presets browsing by category and mood and control the main DRONAR dials from your hardware.
Dronar Master Edition is available now for the special introductory 20% intro discount, priced at £247 GBP until 18th September, 2018. Owners of previous Dronar modules can get the Master Edition at a discount of up to 96% off regular.
More information: Gothic Instruments