Gothic Instruments has released the new DRONAR Orchestral Woodwinds, an innovative organic atmosphere sound creator for Native Instruments Kontakt.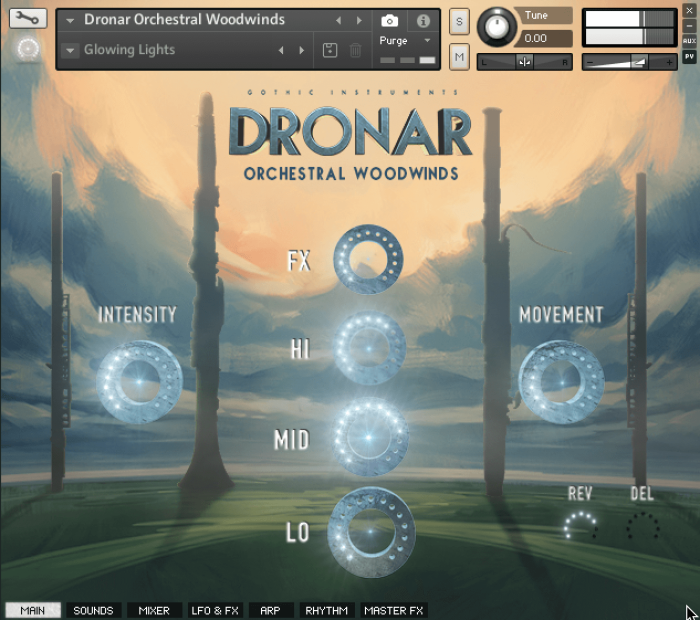 The instrument is powered by the award-winning DRONAR Engine which allows you to create complex, mind-expanding atmospheres triggered by just a few keys.
The DRONAR Engine automatically spreads out the chord in the mid-range, adds a root bass note, a high note and then adds evolving sound effects. Eight simultaneous different sounds are then animated with LFOs, a rhythm sequencer and arpeggiators to bring them to life. The results are rich and dramatic.

Perfect for media composers and sound designers, Orchestral Woodwinds has been built around premium recordings of flute, piccolo, clarinet, oboe and bassoon performances. In the DRONAR Engine, eight separate sounds are animated by independent arpeggiators and modulations to conjure an otherworldly halo of hope with a hint of mythical birds and forest green.
DRONAR Orchestral Woodwinds features
204 premium presets hand-crafted by experienced sound designers.
8.5GB core library.
Powered by the award-winning updated DRONAR Engine.
Developed for the full version of Kontakt (5.8 or above).
Sound library includes flute, piccolo, clarinet, oboe and bassoon performances from leading professional session players.
6 pages of simple controls deliver massive control.
Save time on creating complex soundscapes which would normally take hours to create.
Super low loading times with new snapshots system.
Use the Mod-Wheel to control the 'Intensity' parameter to open up the expressive power of DRONAR.
Until February 4th, the library is available from Time+Space at an introductory 20% discount (regular £59.95 incl. VAT / $66 USD). Owners of Gothic Instruments products can use coupon code GOTHLOYA20 to receive an additional 20% loyalty discount on this title. This code can also be used against other Gothic Instruments libraries.
DRONAR Orchestral Woodwinds is also included in the Gothic Instruments Complete Bundle and Dronar Bundle.
More information: Gothic Instruments