Time+Space has announced the release of a new Sculptor series instrument by Gothic Instruments. Epic Drops is a new Kontakt tool that offers an easy way to create falls, drops, power downs and more.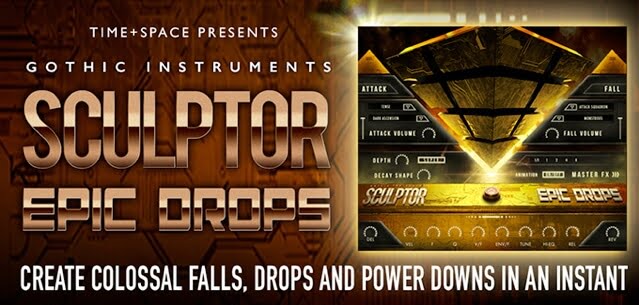 The sound design experts at Gothic Instruments are back with the next instalment of their SCULPTOR series of SFX Kontakt tools – SCULPTOR Epic Drops.

Drops are an essential feature of dance music and trailer sound design: incredible falling-pitch sonic glue which adds power and professionalism to any hit and stop, and SCULPTOR Epic Drops gives you the means to create them in an instant.

From gritty, smooth and bold synth sounds to cutting-edge futuristic textures, the high quality audio in SCULPTOR Epic Drops was recorded and created by Alessandro Camnasio who has been responsible for the sound design in many Hollywood movie trailers.

Just press a few keys for instant impressive results – from subtle and simple to vast and complex – and easily blend and shape the sound to exactly suit your project with a set of dynamic sculpting tools.

Whether you´re producing electronic dance music, creating cinematic soundtracks/trailers or need futuristic FX elements such as power-downs or laser sounds to enhance moving images, SCULPTOR Epic Drops will take your project to breathtaking new heights.
Sculptor Epic Drops features
Developed for full version of Kontakt v5.6.8 or above.
Includes 79 nki presets including Guest Presets from specially selected composers.
Thousands of raw sounds from top Hollywood trailer sound designer Alessandro Camnasio.
Flexible, simple interface offers numerous of sculpting possibilities.
Add power and professionalism to any hit and stop.
Create drops ranging from simple and subtle to vast and complex.
Increase the drama within cinematic soundtracks and video games.
Create engaging transitions and release the tension of an epic build-up in electronic music productions.
Also ideal for SFX such as power-downs, futuristic sci-fi scenes and more.
Ideal companion to SCULPTOR Epic Risers.
Stuck for inspiration? Hit the RANDOM button for infinite new options.
Add depth and power with the SUPER button.
Total product size: 960 MB.
Sculptor Epic Drops is available to download now with an introductory 20% off until September 19th, 2017 (regular price £54.95 GBP). Existing Sculptor series users can use their loyalty discount to save an additional 20% on top of the introductory discount.
More information: Time+Space / Sculptor Epic Drops