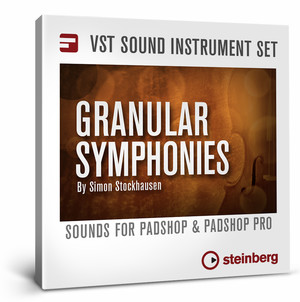 Steinberg has announced the release of Granular Symphonies, a VST Sound Instrument Set that adds exclusive, premium-quality samples and presets to the libraries of the Padshop Pro and Padshop granular synthesizers.
Created by sound designer and composer Simon Stockhausen, Granular Symphonies comprises two gigabytes of samples and recordings, including strings, brass, vocals and various other instrumental content. The 260 presets employ the granular synthesis technology in Padshop Pro and Padshop to reveal unique sounds of profound detail. Granular Symphonies offers a wealth of sonic textures, pads and leads for invoking powerful emotions that stir and inspire.

"I am excited about the release of Granular Symphonies, one of the biggest sound design projects in my life and certainly one that kept me busy and sleepless for many months," remarked Simon Stockhausen. "I hope that this library will inspire many composers around the world and expand their sonic palette to paint beautiful, haunting, wondrous and enchanting musical pictures using the versatility of granular synthesis in Padshop and Padshop Pro."
Granular Symphonies features
260 new presets with outstanding sounds designed by sound designer, composer and multi-instrumentalist Simon Stockhausen.
2 GB of exclusively recorded samples including strings, brass, mallets, vocals and experimental content.
Available as download only.
Windows and Mac installer included.
Granular Symphonies is available to purchae for 29.99 EUR incl. German VAT.
More information: Steinberg / Granular Symphonies