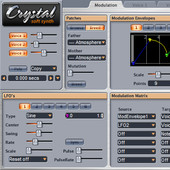 Green Oak has released version 2.5.0 of Crystal, semi-modular synthesizer, ideally suited to creating lush evolving soundscapes.
Crystal goes 64 bit! With version 2.5.0, Crystal is now available as a 64 bit plugin on both Windows and OSX. The OSX installer installs both Audio Unit and VST plugins which are capable of 32 or 64 bit. The Windows download includes both 32 and 64 VST versions, so you can put the appropriate one in your plugins folder.
Crystal is available to download as a freeware instrument plug-in for PC and Mac.
Green Oak has also announced the release of Crystal Synth for mobile devices.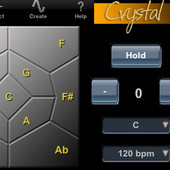 Long a popular synthesizer on the desktop, it is now available for the iPad and iPhone.

Browse through the included sounds and use the 1 octave keypad to trigger notes to produce evolving, rhythmic, or melodic sounds. Create your own sounds with a single button press using the breed feature. When using an iPad, you can delve into a tweakers dream by using the extensive editing features to sculpt sounds to your heart's content.

Crystal features both subtractive synthesis and frequency modulation (FM) synthesis. It offers abundant modulation control with over 90 parameters which may be modulated, multi-stage envelopes with graphical editors, extensive tempo sync of envelopes/lforates/delay times, built-in effects for chorus/flanging/comb filtering/echoes, and a band splitter for effects processing by frequency band. Not only that, Crystal has wave sequencing and granular synthesis. The musical applications for Crystal are literally boundless.
Crystal for mobile devices comes in two versions:
Crystal

, basic version. With this version you can browse sounds, play notes, and create new sounds, taking advantage of its powerful semimodular synthesis engine.

Crystal XT

(available soon for a premium price) adds MIDI keyboard input via the iPad's camera adapter and sharing of patches with the desktop version.
Crystal runs on both the iPad and the iPhone/iPod Touch. The basic version is now available to purchase from the iTunes App Store for $0.99 USD.
More information: Green Oak