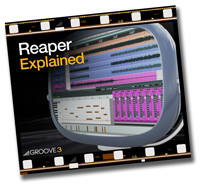 Groove 3 has released Reaper Explained, a series of video tutorials on Cockos Reaper by Kenny Gioia.
Reaper is fast becoming a truly powerful and efficient DAW, are you up to speed on it? The amazing Kenny Gioia breaks it all down for you in this awesome, in-depth series of video tutorials focusing on Cockos Reaper.

You'll learn about project creation, templates, routing, editing, using plug-ins, automation, rendering and exporting, MIDI, markers and regions and so much more. After viewing this collection, you'll be able to work and navigate Reaper like a seasoned pro. More and more people are switching to Reaper everyday, don't get left behind, and don't fear the Reaper!
Reaper Explained features
26 Tutorials / Over 4 Hours Total Runtime.
For all beginner to intermediate Cockos Reaper users.
Tutorials written by multi-platinum selling producer Kenny Gioia.
Simple to use video control interface for Mac & PC.
Reaper Explained is available to purchase as a 30-day "Watch It Online" product for $17.99 USD, $39.99 USD for a download, or $44.99 USD for the Boxed Disc (including instant download version).
More information: Groove 3 / Superior Drummer 2 Explained