Groove3 has announced that the highly anticipated documentary The Art of Recording a Big Band is now available for streaming and download at Groove3.com.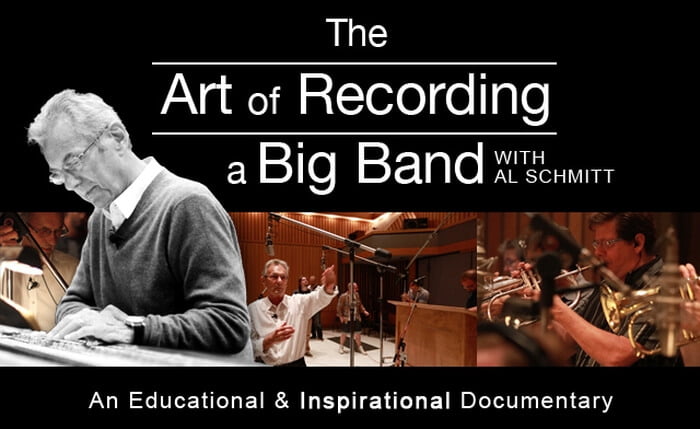 The Art of Recording a Big Band was filmed at the famed Capitol Studios in Hollywood, CA, over the course of a two-day master class by industry legend Al Schmitt and partner, Steve Genewick recording Chris Walden's GRAMMY® Awards-nominated 18-piece jazz big band.

The film focuses on the recording methods of Schmitt, one of the most celebrated recording engineers, producers and mixers of all time, winning 22 GRAMMY® Awards, the most recent for Paul McCartney's "Kisses on the Bottom" in 2012. Over the course of his career, Schmitt has recorded and mixed more than 150 gold and platinum albums. His credits include: Henry Mancini, Sam Cooke, Frank Sinatra, Ray Charles, Sammy Davis, Jr., Natalie Cole, Thelonious Monk, Elvis Presley, Madonna, Michael Jackson, Paul McCartney, and many more.

Shevy Shovlin, a well-known recording industry professional in his own right, makes his big screen directorial debut with this 90-minute educational documentary film. "This project is near and dear to my heart not only because I am a huge fan and good friend of Al's, but because I was there to witness the magic that he brings to his recording sessions. Our hope is that the film will not only inspire and educate a new generation of the recording industry, but pay homage to a recording legend through the unique challenge of recording the exciting genre of Big Band."

The educational and inspirational film includes interviews with Schmitt's longtime recording partner Steve Genewick as well as Chris Walden, Dave Pensado, Ryan Hewitt, Kenny Wild, Paula Salvatore, and a cameo appearance by engineer and mixer Andrew Scheps. Longtime friend and collaborator, Quincy Jones provides a poignant opening statement about the importance of "the person who captures the sound".
The film is available for streaming (with the All Access Pass) and for download for $24.99 USD.
More information: Groove3 / The Art of Recording a Big Band