Plugin Boutique has announced an exclusive sale on Guitar Pro 7.5, a software application that is designed for editing music scores and tablature for guitar, bass and ukulele, as well as creating backing tracks for drums or piano.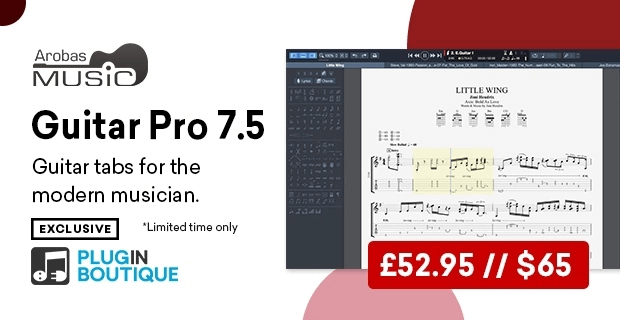 Guitar Pro is designed for editing both tablature and standard sheet music for guitar, bass, and other fretted instruments from 3 to 10 strings. It also allows you to edit music notation for any other instruments such as keyboards, drums, strings, wind instruments, and percussions. It is a complete and convenient tool, whether you're a beginner or a pro.

Guitar Pro makes it possible for you to work in a methodical way to improve your playing level, to write songs and immediately listen to the arrangement, or to play your guitar along great-sounding backing tracks.
Guitar Pro 7.5 for Windows and Mac is on sale for £52.95 GBP / $65 USD until September 1st, 2020.
More information: Arobas Music