Gunnar Ekornås has announced the release of version 2.0 of Messiah, a synthesizer instrument for Windows.
This new version of the synth inspired by the Prophet 5 analog synthesizer by Sequential Circuits is completely rebuilt and coded by Chris Kerry.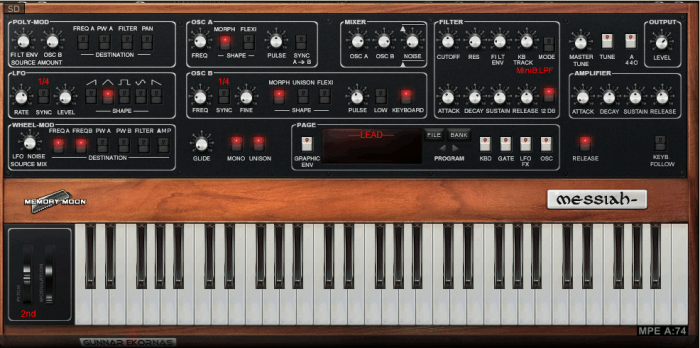 The whole process took 14 months, and it could just as well have been verion 2.2. It was finished in april, then we worked more and added stuff until we had another release candidate in june, and considered release, but then it was summer holiday.

So we improved it and added new things like 889 patches, MPE and analyzed prophet5 filter.
Changes in Messiah 2.0
Support for 32/64-bit for Windows and Mac. Mac installer will install both AU and VST version.
4x improved resolution in the oscillators This gives more body to the sound, more bass and more pleasant highs.
New filter models: Biquad LFP, HPF and BPF. MiniA. MiniB LPF, HPF, BPF. Funky: LFP, HPF. P5: LPF, HPF and BPF. P5 filter modelled after Rev3 Prophet5.
889 patches in total. 7 complete banks are available from the "BANK" button, including a brand new factory bank.
Converter for Messiah 1.3 patches (Messiah 2.0 and Messiah 1.3 can be installed on the same machine).
Group presets for effects, gate and oscillator settings.
File commands: Load/save presets, Copy/paste, Load (and import)/save banks, and Load/save MIDI CC map.
LFO 2, 3 and 4 expanded to full LFOs. Destinations: PW A, PW B, OscA, OscB, Filter, Amp and Pan.
Phase start for all LFOs. New Amp destination is designed to emulate a sidechain compressor when phase start is set to 50.
Expanded gate: Set the total number of steps from 1-16. (set it to 12 when using triplets). Pitch and Cutoff gate have depth controls and glide controls. New off/on gate for each step. Steps that are next to each other can be tied with a "TIE" button. Pitch is from -12 to +12 semitones.
New distortion model (model STD, and we kept to old one ORIGINAL), new phaser, new ensemble effect based on the Polysix ensemble.
New delay options: Quality knob to emulate Bucket Brigade Delay. Wheel (CC1) can control delay level.
New reverb.
MPE mode (Bottom switch right corner on the GUI) and option to reverse aftertouch and slide (CC74) operation for Roli keyboards.
Option to make GUI 200% bigger. (SD – HD switch upper left corner on the GUI). It will not take effect until you close the GUI and open it again.
Messiah (VST/AU) is available for $40 USD. The 2.0 update is free for registered users.
More information: Memorymoon