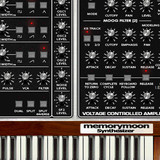 Gunnar Ekornås has released updated versions of Memorymoon, Messiah, and ME80, three virtual synthesizer instrument plug-ins for Windows.
Changes in Memorymoon v1.7
This version will never expire.
New skin by Robert Wentz.
Note-on CPU reduced by 18 %.
Envelope retrigger modes changed.
Clicks in filter1 reduced.
Muted 1st note when rendering audio solved.
Fixed problem with soundfont file browser.
Some minor changes in the factory bank.
Changes in Messiah 1.25
This version will never expire.
Note-on CPU reduced.
Some new presets in the factory bank.
Crash when uploading 2 instances, and then deleting the 1st instance fixed.
1st note muted when rendering audio fixed.
Envelope retrigger mode changed.
Changes in CC assignments. Some did not work because they are used for LSB messages:

Poly-mod to filter: Was CC63, now CC70
LFO to freq A: Was CC33, now CC61
LFO to freq B: Was cc35, now CC62
LFO to PW A: Was cc37, now cc63
High EQ level: Was cc06, now cc35
Unison osc detune: Was cc98 , now cc29

CC picture and Novation templates updated.
Changes in ME80 v1.1
New high-tec skin by Scott Kane. Some users have requested the old "classic" skin, so it is still available. But I recommend the new skin by Scott Kane.
LCD readouts have new grey colour.
Readouts for all performance sliders.
Improved oscillator sound in extreme highs and lows.
Synthline2 detune range increased 100%, touch-responce VCF(LFO) increased 200%.
New slider: After speed (Amount of aftertouch smoothing). It is global, that means that it will not change when you change patch, but it is changed every time you load a new patch or a bank. Because of that it is saved with song in a host.
New smoothing system for ribbon. It goes faster back to original pitch when released, while it is smoothed more than before when bending downwards. It is possible to smooth even more in later versions.
Bugfix: First note could be muted when rendering audio. Fixed.
Bugfix: Crash when uploading 2 instances and then deleting the 1st instance fixed.
New "menu" below patch name makes it possible to load/save patches from the synth`s GUI.
Some new factory patches.
Memorymoon and Messiah are available to purchase for 30 USD each, or bundled for $40 USD. ME80 is $40 USD. The updates are available to registered users.
More information: Gunnar Ekornås