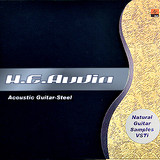 H.E. Audio has released Acoustic Guitar-Steel, a virtual acoustic guitar instrument for Windows.
Acoustic Guitar-Steel combines natural sound with a high degree of user-friendliness as standard.
Acoustic Guitar-Steel features
Supports both Pick playing and Finger playing timbres.
All the guitar playing skills can be fulfilled and displayed on the Main page of guitar interface.
Many guitar playing skills have been represented authentically, including: Standard, Natural Harmonic, various sliding sounds, chords and finger noises.
All the sounds are sampled authentically from top musical instruments and acclaimed recording equipments.
Simple and convenient single-track editing modes realize that full functionality can be achieved within one MIDI Channel.
Complete guitar Attack time and adjustable function of Start Time, which retains the integrity of every note and precision of performance.
Exclusive rhombic sampling design means that in often-used range and velocity, sampling density will increase, otherwise reduce.
Technique for same pitch circulation (robin) makes that each pitch of guitar has different circular timbre.
Tutorial video is available.
Background noise is low, and the sampling process is extremely precise.
Acoustic Guitar-Steel is available to purchase as a VST instrument plug-in for Windows PC, priced at $199 USD / 149 EUR.
More information: H.E. Audio (website no longer available)