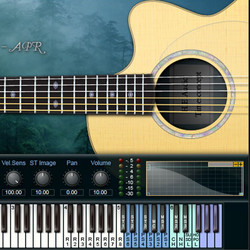 H.E.Audio has released Poetic Guitar 2, a collection of virtual guitar instruments for Windows and Mac.
Poetic Guitar 2 has been developed over two years; designed from the ground up, taking on board customer feedback from the Poetic Guitar 1 series, to provide professional quality sound, better performance and a more enjoyable intuitive, interactive experience.
Poetic Guitar 2 features
Over 9GB of professionally played and recorded acoustic guitar samples.
Custom mic placement recording designed for artifact free Stereo to Mono sound field.
Sample Streaming technology accesses guitar sample banks.
Sample Circulation Techniques employ multiple sample layers which are alternated to produce a performance.
All new Chord and Strum system allows guitar performances for both novice and expert users.
The Strum Sequence function allows a user to create rhythm patterns for chord and/or string plucking.
An 8-stage graphical envelope allows the user to shape the sound anyway you choose.
'A.I.' settings determine how strictly the guitar adheres to string and fingering of real guitars.
Many different playing techniques are utilized by pressing a Keyswitch, allowing the user to add Harmonics, Slide Up, Slide Down, Hammer On, Pull Off, Slide In, Slide Out or Mute styles into a performance. Also, note bending and true guitar finger vibrato are supported.
Legato mode techniques for playing styles Slide Up/Slide Down and Hammer On/Pull Off, designed to make keyboard playing these styles more simple.
Auto-playing Natural Noises. When activated, many different types of string or finger noise sounds will be played automatically, designed to provide a quick and easy way to add more realism to a performance.
Velocity Sensitivity & Contour. The Guitar provides many velocity contour modes to suit a particular playing style.
Comprehensive Effects Section: Nine Effects: Gate, Compressor, Overdrive, Tremolo, 5 Band EQ, Chorus, Pitch Shifter, Stereo Echo, Reverb.
The Poetic Guitars 2 for Windows and Mac (VST/AU) cost $99 USD (single instrument) / $169 USD (2 instruments) / $208 USD (3 instruments).
Visit H.E.Audio for more information.