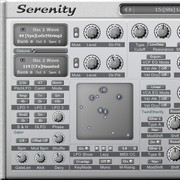 H.G. Fortune has released Serenity, a virtual synthesizer instrument plugin for Windows.
Serenity – what it is and what it is not: This synthesizer is aimed to create various choir and string pad sounds but it is not meant to emulate this or that vintage string and/or choir machine. Though you might get sounds resembling quite nice the flavours of the old machines.
Serenity features
2 x PCM wave oscillators with 128 waves in 2 banks as primary soundsources.
1 x Filter – 3 types (LoPass, HiPass, BandPass) ADSR EG with Vel control on Attack & Decay, and 3 Response Modes.
1 x 4 channel adaptive mixer for cutoff modulation.
1 x VCA EG (ADSR) Vel control on Attack & Decay, and 3 Response Modes.
1 x Pan.
3 x LFO.
1 x S&H.
1 x DLFO (Double LFO with two outputs and phaseshifting).
1 x special Pitch LFO with Speed Up/Down options.
1 x Twin Etherify (2 Formant filter) with various modulation options.
1 x Gator not only on Level but optional for Filter and delay Pan too.
1 x Delay with several options for panning delayed signal.
1 x Stereo Flanger.
1 x Stereo Reverb.
1 x Bass Enhance.
1 x XY-Joypad with 6 controls for 12 destinations and optional display for LFO & Aftertouch motion.
3 x Lazy Buttons.
12 voices, over 760 patches (6 banks).
Serenity for Windows (VST) is available to purchase for the introductory price of 24.50 EUR / $34 USD until July 3rd, 2011 (regular price 39 EUR).
A free version with some limitations (3 voices, no internal patch management, no MIDI Learn, no velocity control on Attack / Decay of VCF / VCA EG, no SF2 Load, less patches (4 banks), but a hidden easter egg gimmick) is available to download from the Serenity product page.
More information: H.G. Fortune