H.G. Fortune has announced the addition of Avatar ST Pro and X-Wheel Of Fortune 6 Pro to its archive of free NFG (Nearly Forgotten Gems) plug-ins.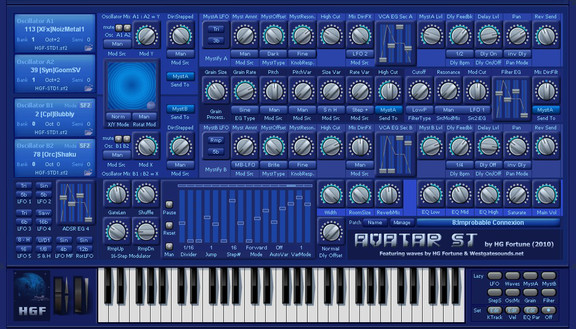 Avatar ST is featuring a new generation of HG Fortune synths. Basically it is most suited for a large variety of pads, soundscapes, athmospheres or related FX sounds but can do other sounds like certain kinds of basses too.

The 16 Step Modulator allows sounds to be fairly rhythmicated in various ways if wanted. Also you can have one section stepmodulated while the other is not as there are two complete sections with oscillators, modifiers, VCA EG, Delay, Pan and Reverb send, plus a grain processor and a filter to be inserted via different audio routings. In addition there are a lot of modulation options you might select from in order to taylor your sound.

Twelve Tutorial patches have been created in order to help you exploring this synth.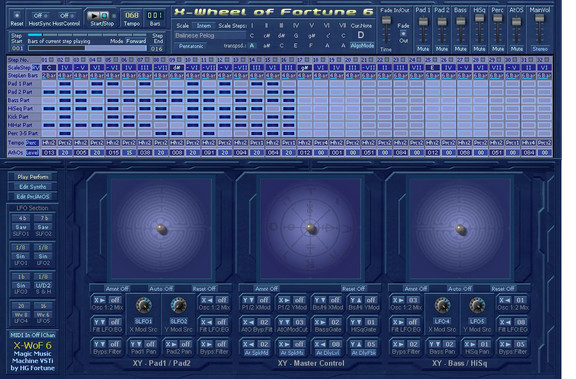 X-Wheel of Fortune 6 (X-WoF 6) is a multipart music system with inbuilt cell step control sequencer for creating tracks of various types of music e.g. Ambient. E.g. just set up certain basics and let the machine create variations for you for there several inbuilt algorithms just for this purpose.

X-WoF 6 is based on a great variety of more than 250 inbuilt scales using harmonical scale steps for fairly easy composition and even learn more about harmony in music. Additionally you might assign your own – even experimental – User scale for each patch.

There are 10 inbuilt soundengines: two synthesizers for Pad parts, one for Bass, one for HiSq (high sequences), one for Athmo-loops and OneShot sounds plus 5 percussion instruments.
For overall interactive realtime control there are two XY SuperModulation pads plus one XY Master Control pad with the option to control the other two from here.
The plugins are available to download for Windows (VST) from H.G. Fortune's download archive.
More information: H.G. Fortune