Hal Leonard Books has announced the release of Fender Custom Shop at 30 Years, featuring 72 centerfolds illustrating 30 years of Fender Custom Shop guitars photographed by Stephen Pitkin, and introductions by Mike Lewis of the Fender Custom Shop and Billy Gibbons of Z.Z. Top.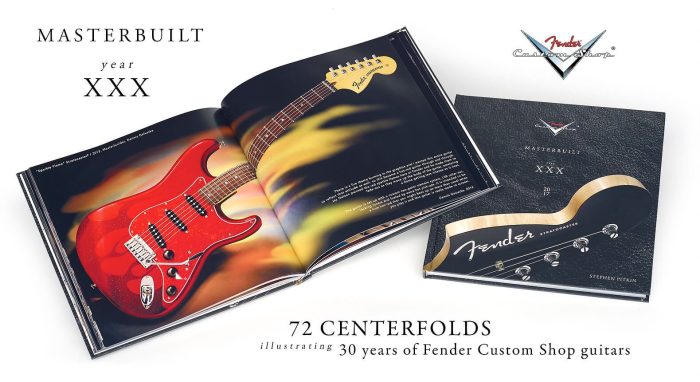 Since 1987, the Fender Custom Shop has been producing guitars that are to playing what Ferraris are to driving, and since 1995, Steve Pitkin has been photographing those guitars, capturing the craftsmanship and artistry that go into every instrument.

Fender Custom Shop at 30 Years showcases both Pitkin's photography and the work of the supremely talented masterbuilders who turn guitar dreams into reality daily.

There is something special about the Custom Shop and the people who work there. They love their work, and they are true craftsmen, building each guitar with artistic expression, skill, and innovation. They do this while holding true to Fender's time honored traditions and working in close collaboration with musicians who rely on these instruments to create their music.

Each page of Fender Custom Shop at 30 Years is made to be interactive, from the highly detailed photographs to the text on their edges, written by the builders who created them and the artists who play them. As Pitkin writes in his introduction, "I hope every page of this book is a window of discovery for you, inspiring curiosity and encouraging your imagination to dream of a masterpiece when it is in your hands."

A guitar from the Fender Custom Shop may not be within reach of every guitar enthusiast, but with Fender Custom Shop at 30 Years, every musician and fan can share in the beauty of these works of art.
The book is available at the Backwing Store for $30 USD.
More information: Hal Leonard Books / Fender Custom Shop at 30 Years