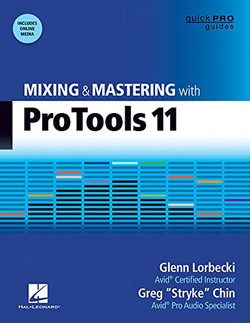 Hal Leonard has announced it has published Mixing and Mastering with Pro Tools 11 and Producing Music with Pro Tools 11, two new Quick Pro Guides by certified Pro Tools trainer Greg Lorbecki and Avid pro audio specialist Greg "Stryke" Chin.
Given Pro Tools 11's high-tech enhancements in delivery speed, ultra-low latency, inclusion of the Avid Audio Engine, and HD video-editing capability, users need practical guides to get up and running quickly and efficiently. In these focused guide, Lorbecki and Chin unlock the full potential of ProTools 11 as a professional mixing and mastering platform. They put the best of ProTools at the reader's fingertips, with plenty of online sessions, audio examples, and video tutorials to guide them along the way.

Published as a Quick Pro Guide by Hal Leonard, both books are designed to help the readers quickly implement professional techniques into their music productions. These straightforward, task-driven, and easy-to-understand books cover material in a way that gets to the point and helps maximize creative and technical accomplishments. The books also include online media that provides audio and video demos as well as helpful key command charts and chapter review quizzes to reinforce key concepts.
The books are available for purchase for $19.99 USD each.
More information: Hal Leonard Books