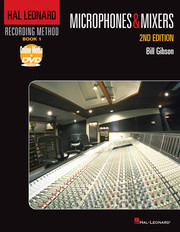 Hal Leonard Books has published Microphones & Mixers by Bill Gibson. The book is an updated second edition of Book 1 in the 6-book Hal Leonard Recording Method series and includes a DVD ROM and online media.
As the first book in the series, Microphones & Mixers covers the critical first steps in a truly organized path through the entire recording process. Topics include how professional microphones work, which to choose and why (plus accepted techniques for using them), understanding the signal path from mics to mixers and how to operate these critical tools to capture excellent recordings, as well as explanations of the most up-to-date tools and techniques involved in using dynamics and effects processors. From initial considerations to mix-down, mastering, and replication, this method provides important considerations and techniques every recording musician needs to know.

In Microphones & Mixers, Gibson augments his straightforward writing style with diagrams, product photos, graphs, and charts to make complex concepts easy to grasp.
Topics covered include:
How professional Microphones work – which to choose and why.
Understanding the signal path from mics to mixers.
How to operate the most fundamental and critical tools in the recording chain.
Combining digital and analog hardware and software to capture great sounds and pristine recordings.
Sound and feature comparisons of several microphones from Royer, AKG, Neumann, Shure, Audio-Technica, and more.
The most up-to-date considerations for getting the most out of virtually any recording setup – in or out of the box!
Microphones & Mixers is available to purchase for $39.99 USD.
More information: Hal Leonard Books