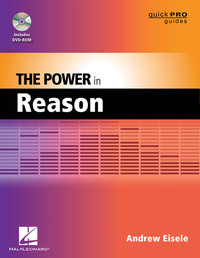 Hal Leonard Books has announced it is now shipping The Power in Reason by Andrew Eisele.
Part of Hal Leonard's QuickPro Guides series, the book is designed to help readers get up to speed quickly and get the most from their software.

The Power in Reason begins with an overview of the program, demonstrating basic operations and how to record and edit MIDI. Next comes a look at some of Reason's instruments, such as the Subtractor and ReDrum Drum Computer, followed by suggested techniques for adding effects to create a powerful and polished sound.

Author Andrew Eisele shows readers how to build a simple composition in Reason and presents basic mixing concepts that will help them create a professional-sounding production. Readers will also learn how to render compositions to a stereo file suitable for burning to a CD or uploading to the Web. Along the way, Eisele shares many of the tips and techniques he has learned as a Reason power-user and trainer.
The Power in Reason is available to purchase for $16.99 USD.
More information: Hal Leonard Books / The Power in Reason