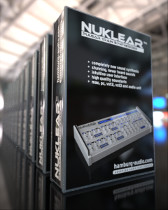 hamburg-audio has updated the Nuklear virtual synthesizer instrument to version 1.1.3.
NUKLEAR™ comes with unique pulsar oscillators and enriches classic sound synthesis with essential new parameters: by disassociating the note pitch from the waveform length it is possible to create new, previously unheard sounds.
Changes in Nuklear v1.1.3
Bugfix: delaytimes > 2 seconds can be set now in synch delay.
Bugfix: the first sequencer slide had a short gap.
Bugfix: sequencer copy & paste didn't work in AU and VST3.
Nuklear VST3 now loads presets from files with correct user interface settings.
Bugfix: Filter frequency & resonance stayed at the modulated value after removal of the modulation source.
Fixed: global delay off in VST3 & AU.
Nuklear is available to purchase for Windows and Mac (VST/AU) for 169 EUR incl. VAT.
More information: hamburg-audio