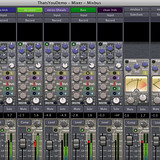 Harrison Consoles has released version 1.4 of Mixbus, a virtual mixing console software.
Mixbus™ is a virtual "analog console" integrated into a full-featured Digital Audio Workstation (DAW). Mixbus "True Analog Mixing"™ provides critical mixing functions in a knob-per-function interface.

"True Analog Mixing"™ is based on Harrison's renowned 32-Series and MR-Series console designs, plus Harrison's proprietary digital mixing technology. Mixbus™ enables you to record, edit, and mix a musical performance in-the-box while getting a sound that harkens back to the golden age of album recordings.
Key changes in Mixbus 1.4
Mixbus solos now work as expected (the master-assigns are muted).
Graphical glitches with popup menus and "moving" mixer strips have been fixed.
New keybindings for users of other popular DAWs.
Mixbus is available to purchase for $79.99 USD. The update is free for registered Mixbus users.
More information: Harrison Consoles / Mixbus