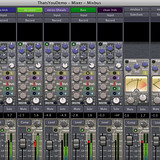 Harrison Consoles has released version 1.2 of Mixbus, a virtual "analog console" integrated into a full-featured Digital Audio Workstation (DAW).
Mixbus "True Analog Mixing"™ provides critical mixing functions in a knob-per-function interface. "True Analog Mixing"™ is based on Harrison's renowned 32-Series and MR-Series console designs, plus Harrison's proprietary digital mixing technology. Mixbus™ enables you to record, edit, and mix a musical performance in-the-box while getting a sound that harkens back to the golden age of album recordings.
New in Mixbus v1.2
Show all tracks with regions under playhead

— Right-click the Track/Bus side panel, and you'll find a new option to show all tracks with regions. Any track with a region under the playhead will be unhidden. Tracks without regions under the playhead will be hidden. This is a nice editing convenience that helps you manage large sessions.

Save As

— In addition to Save and Snapshot, there is now a ¨Save As¨ function which creates a new snapshot in the session, but differs from "snapshot" in that future Save commands to go into the newly-created snapshot.

Track templates

— Track templates can be stored by clicking on the track name and choosing "Save As Template". Templates can be recalled by choosing the template from the ¨Channel Configuration¨ selector when making a new track/bus.

Language translation

— Mixbus now supports many different languages for menus and dialog text. To select a different language on OSX, use the "System Preferences->International->Language" dialog. Supported languages include English, French, German, Italian, Brazilian Portuguese, Spanish, Russian, Greek, Swedish, Polish, Czech, and Norwegian. (See the About page for translator credits)

Ardour Exchange compatibility

— Ardour Exchange is a third-party utility which allows you to import AAF session files into the Ardour/Mixbus session format. Mixbus supports the abilty to import AAF files from the regular "Open" dialog if Ardour Exchange is installed on your system. Ardour Exchange for Mixbus is not yet released.
Various improvements and fixes.
Mixbus for Mac OSX is available to purchase for $79.99 USD.
More information: Harrison Consoles / Mixbus