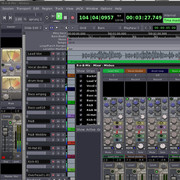 Harrison Consoles has released version 1.5 of Harrison Mixbus, a console mixing software for Linux and Mac OSX.
Mixbus is an "analog console" that has been incorporated into a Digital Audio Workstation. The Mixbus engine was developed in-house at Harrison Consoles, where we have been designing high-end digital and analog consoles for over 30 years.
Changes in Harrison Mixbus v1.5
New Region-Gain-Range editing mode.
New "Join Playhead to Edit Range" transport/editing mode.
New key-mappable "play with pre-roll" in Transport menu.
Channel compressor controls are tweaked for easier setup with drums & percussion.
Dynamic automation is now "thinned" during recording. Thinning strength is configurable via ardour.rc file.
Fixed bug with automation editing associated with zooming in & out while editing.
Fixed bug where end marker moves to the end of last recorded region whenever you change the end trim of any region.
Harrison Mixbus is available to purchase for $79.99 USD. The update is free for current Mixbus users.
More information: Harrison Mixbus