Harrison has released version 3.2 of Mixbus, a digital audio workstation for Windows, Mac & Linux.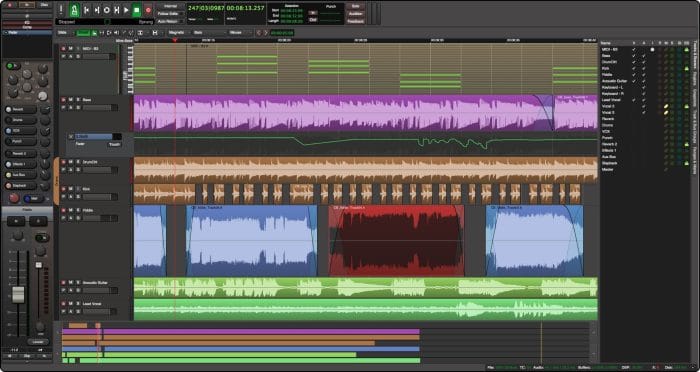 Harrison has announced the release of their Mixbus DAW Software Ver 3.2 with more new features and the availability of a unique and innovative new plugin in the XT-series: the XT-DC Drum Character.

Included in Mixbus 3.2 is a New Export Report/Analysis window which includes:

LUFS loudness measurement
LU (Loudness Unit) histogram
LU Range
Waveform display, with peak indicators
Peak Sample value + True Peak value
Spectrogram view

These tools provide an extra level of confidence that your exported track sounds great and meets common deliverable requirements for distribution and broadcast.

Over 100 general improvements and bug-fixes are included in Ver 3.2 such as…

New: Window > License manager: shows the status of Mixbus and LV2 plugins that use the new specification (such as x42). Show the License Manager if session contains unlicensed Harrison (or x42) LV2 plugins
Improved the tap-tempo button accuracy … tap several times to get a more accurate bpm
Inline channelstrip plugin parameter sliders now implement "touch" so you can write touch automation from those controls
Configurable export preroll : pre-process silence before export to flush reverb tails etc. (fixes reverb tails from getting into the start of the export, if the associated plugin does not respond to flush), etc.
The XT-DC drum character, the newest addition to the Character Bundle (purchased separately), provides powerful DSP to equalize the two different parts of a drum "hit" separately. It utilizes 2 separate equalizers, the 1st dynamically tracks the initial attack while the 2nd dynamically tracks the tail.

Ben Loftis, Mixbus product manager, added "Version 3.2 continues our commitment to Mixbus customers, new and old, with more expanded mixing features since so many use Mixbus mixing capabilities in combination with other DAWs. It also includes many more improvements and fixes that have been requested by our user base. Just wait to see what we have planned next!"
Mixbus 3.2 is available for purchase for $79 USD.
More information: Harrison Consoles / Mixbus