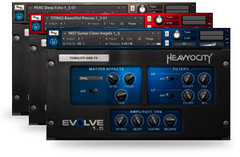 Heavyocity Media has announced version 1.5 of Evolve, a Kontakt Player powered sample library.
Featuring an all new interface and our signature "Trigger FX", the Evolve 1.5 upgrade provides owners of Evolve with amazing control over the sounds. The EVOLVE 1.5 upgrade is powered by the Kontakt 4 (Kontakt 4 Player) engine.

With EVOLVE 1.5, users can create effects performances that will radically alter the original sounds. The Upgrade provides the same intuitive layout and formatting of the Evolve Instrument presets, and is easy to install. Simply drag and drop the files into the correct locations (refer to installation instructions included in download), and you are ready to go.
New in Evolve 1.5
All new interface

— EVOLVE 1.5 is powered by the NI Kontakt 4 engine. It is fully integrated into the K4P browser, and has an intuitive user interface. Users are provided with control over ADSR, HIGH PASS FILTER (including cut-off and resonance), LOW PASS FILTER (including cut-off and resonance), and EFFECTS (including Skreamer, Lo-Fi, Cabinet, Reverb, and Delay). Through the K4P interface, users also have control of Tuning, Pan, and volume.

'Trigger FX' Eingine

— EVOLVE 1.5 adds the highly innovative 'TRIGGER FX' feature to the EVOLVE virtual instrument. Made up of 12 discreet effects (made up of filter sweeps, delays, compression, panning, distortion, Lo-Fi, and more), the Trigger FX can be performed and recorded using a midi keyboard, or user-assigned CC Values. Within the presets of the Rhythmic Suites, Percussive Kits, and Stings and Transitions categories, this real-time FX performance tool can create radical transformations of the original sounds with the hit of a key.
The EVOLVE 1.5 Upgrade is available to purhcase (for EVOLVE only, not for the Evolve Mutations Products) as a download for $29.95 USD. 50% of the purchase will be donated to Cancer research at the Memorial Sloan-Kettering Cancer Center.
More information: Heavyocity Media