Heavyocity has partnered with Icebreaker Audio to release Calc-U-Synth, a vintage lo-fi synthesizer instrument inspired by the Casio VL-Tone.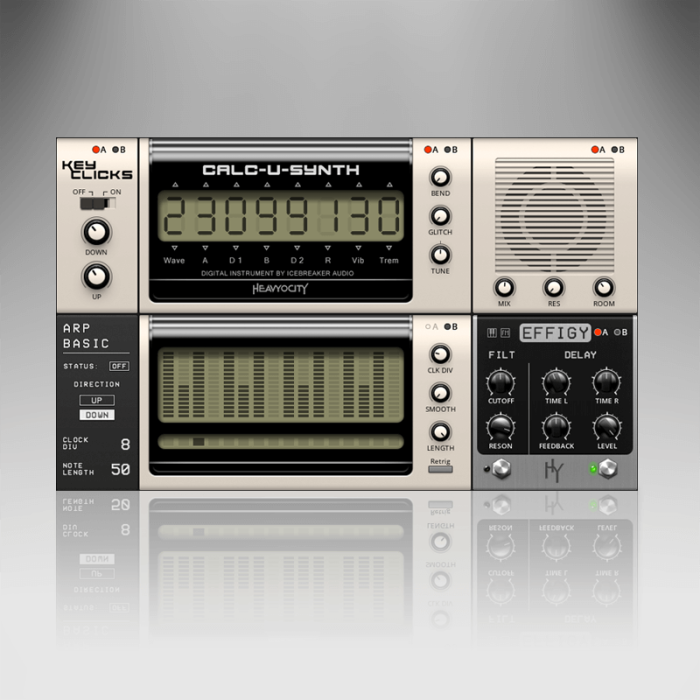 Calc-U-Synth is a faithful reproduction that brings the digital retro goodness of the classic digital calculator/synthesizer hybrid to Reaktor and Reaktor Player.
"Calc-U-Synth was designed to present the full capabilities of the original's programmable features in a more convenient interface," says Icebreaker Audio Founder Adam Hanley. "We took great care in measuring and reproducing every aspect of the original accurately. Features like the built-in speaker and the key-click sounds of playing the instrument were sampled and included, to retain the character of the instrument."

Calc-U-Synth, like the original, can be run in one of two main modes: calculator or synthesizer. The synthesizer is a monophonic instrument that has 5 preset sounds as well as a user programmable 6th slot called ADSR. The sound was then expanded beyond the VL-Tone, featuring over 70 customized presets, and using a number of effects and performance options including an arpeggiator, circuit-bending glitch controls, and a filter & delay effect module. Calc-U-Synth was developed using the Reaktor Blocks framework, which means that owners of the full version of Reaktor can incorporate the 9 individual blocks into their own creations.
Calc-U-Synth for Native Instruments Reaktor and Reaktor Player version 6.2 is on sale for the intro price of $19 USD until September 28th, 2017 (regular $29 USD).
More information: Heavyocity / Calc-U-Synth