Heavyocity Media has launched Gravity – Modern Scoring Tools, a groundbreaking new hybrid cinematic virtual instrument for Native Instruments Kontakt.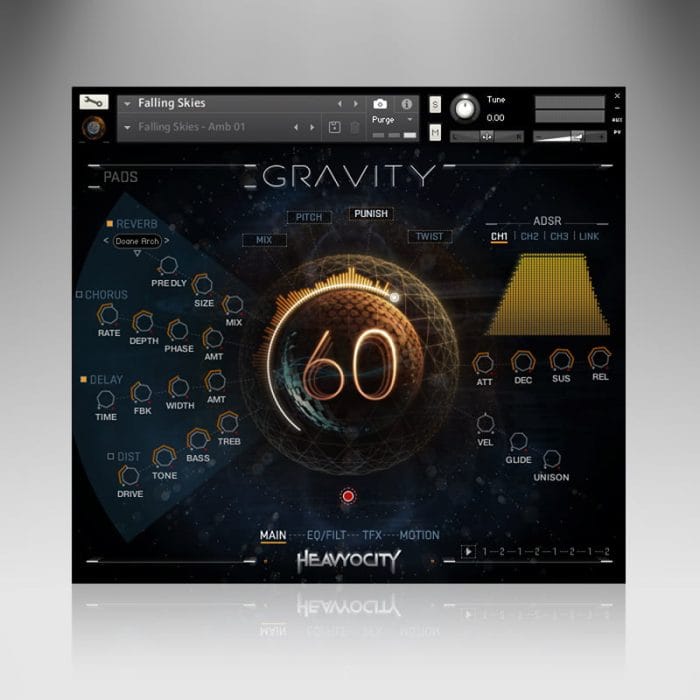 Developed by Heavyocity's award-winning team of professional composers and sound designers (Interstellar, Gone Girl, Godzilla), GRAVITY delivers a stunning sound and visual aesthetic, with over 12GB of production-ready instruments in an inspiring new interface.

As the successor to Heavyocity's acclaimed EVOLVE, DAMAGE, AEON, and DM-307 virtual instruments, GRAVITY covers the gamut of intangible scoring elements: complex Pads, evocative Risers, other-wordly Sting FX, and earth-shattering Hits. The instrument also introduces two new DESIGNER features, enabling the construction of literally thousands of unique hits and risers.

"GRAVITY is not just another virtual instrument, it's like having an award-winning sound design team at your fingertips." said Neil Goldberg, Partner and Creative Director, Heavyocity. "It's by far our largest and most adventurous undertaking to date."

Heavyocity's GRAVITY contains over 2,200 sound sources and 1,200 Kontakt presets. There are more than 800 additional Kontakt instrument snapshots organized by style and timbre, creating the largest range of sounds ever presented in a Heavyocity instrument.

With GRAVITY, Heavyocity also introduces the powerful MOTION feature. From smooth, tempo-synced swells to complex stutters and glitch effects, MOTION delivers fully customizable control over volume, pan, and pitch. Users can craft additional complex sequences by employing MOTION's new PATTERN CHAINER and the hypnotic VOLUME MODULATOR.

Heavyocity continues to push the boundaries of virtual instrument interface design in partnering with innovative UX designers, Perception NYC. Combining years of motion picture graphics development for Marvel Studios ("Iron Man", "Thor", "Captain America", and the "Avengers" franchise) and future-tech UI design for partners SpaceX and Samsung, Perception re-envisioned Heavyocity's already-intuitive instrument controls.

As a "powered-by-Kontakt" instrument, GRAVITY offers all playback and sound shaping functionality through the full version of Kontakt or the free Kontakt 5 Player.
Gravity features
12 GB uncompressed (9.2GB on Disk with NI lossless compression).
Available as direct download only.
2200+ Sound Sources.
815+ Snapshots.
325+ Motion Presets (NKA's).
1200+ NKIs

780+ Pads.
390+ Stings.
19 Riser Menus.
9 Hit Menus.

Two new "Designers" for Hits and Risers.
Motion page for advanced volume, pitch, and pan pattern creation.
Playable Trigger FX™ for real-time control.
Stand-alone, VST, AU, DXi, AAX, RTAS.
Gravity is available for purchase for $449 USD. Owners of a Heavyocity product or Komplete Ultimate can save $80 USD on a purchase. Offer valid through June 23rd, 2015.
More information: Heavyocity