Master Sessions: Ensemble Woods by Heavyocity Media is the fourth installment in its line of percussion-based virtual instruments.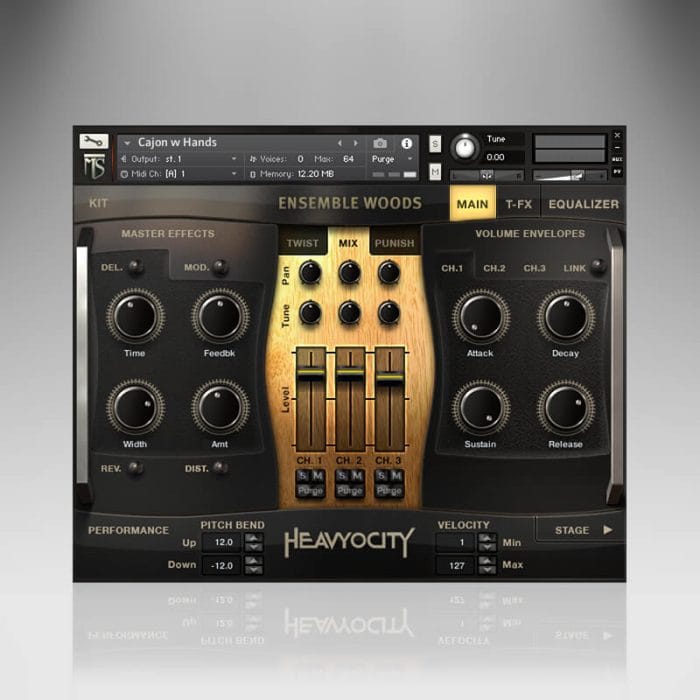 Developed by the Heavy Melody Music & Sound Design group of composers, Ensemble Woods adds yet another dynamic percussive instrument to their critically-acclaimed Master Sessions line. Complete with a wide range of percussive tones and timbres, from expressive cracks to rounded low-end thumps, Master Sessions: Ensemble Woods places the vibrant character of percussive woods directly into the hands of the modern cinematic composer.

With 11 unique multi-sampled wood ensembles and over 300 tempo-synced loops, Ensemble Woods delivers 2+ GB of professional-quality percussion content. The Heavyocity/Heavy Melody team returned to Bunker Studios in NYC, known for its rich, intimate soundscape, to capture yet another round of deeply-sampled six-player percussion ensembles. After countless hours of meticulously capturing both traditional and non-traditional wood objects, Heavyocity has added another indispensable percussion instrument to the cinematic composer's arsenal. From cajons to bamboo rods to struck acoustic guitars, Ensemble Woods' unique percussive punch will add an expressive new layer to your next score.

The included content is complemented by an advanced-yet-intuitive user interface featuring the Stage (Kits & Collection only), advanced Trigger FX and Heavyocity's signature Punish knob. With the proprietary Loop Mutator™ technology, users can sequence, re-compose and manipulate loops in new and exciting ways.

And now, Heavyocity is offering the entire Master Sessions Suite, featuring Ensemble Drums, Ethnic Drum Ensembles, Ensemble Metals, and Ensemble Woods, for just $349 for a limited time. Experience this dynamic line of cinematic percussive elements, with full NKS and Kontakt Player compatibility.

All Master Sessions instruments offer all playback and sound shaping functionality through Kontakt & Kontakt Player 5.
Master Sessions: Ensemble Woods Collection is available for purchase for the introductory price of $99 USD until May 18th, 2016 (regular $149 USD). The Master Sessions Suite is on sale for $349 USD (regular $399 USD).
More information: Heavyocity / Master Sessions: Ensemble Woods