Heavyocity Media has launched Master Sessions: Ethnic Drum Ensembles, the second product in a new line of pristine virtual instruments.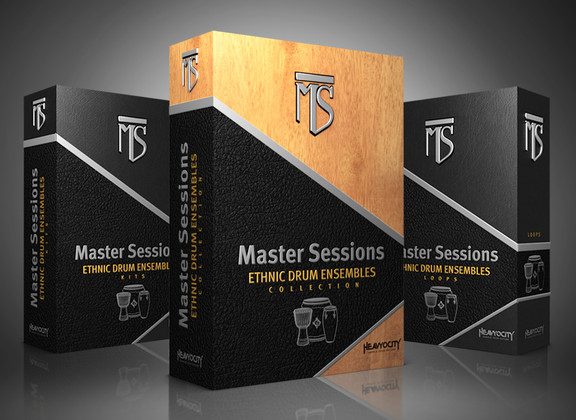 Created by New York City's renowned sound design team, the Master Sessions virtual instrument line focuses on specific instruments and ensembles for professional composers.

As a successor to Heavyocity's award-winning virtual instruments: DAMAGE, The AEON Collection, DM-307: Modern Groove Designer, and the Evolve Series, Master Sessions: Ethnic Drum Ensembles answers the call of pro-composers looking for expressive ethnic drum ensemble kits and hybrid looped percussion.

The Heavyocity team carefully sought out a unique collection of ethnic drums (taikos, daikos, bongos, congas, frame drums, djembes, dumbeks, bodhrans, darbukas, batas, cajons, and surdos) that were performed in ensemble fashion. The performances were then mastered to deliver maximum impact, all in an easy to use interface.

Heavyocity's Master Sessions: Ethnic Drum Ensembles Collection includes 6 unique ensembles in 28 kit presets, 466 loop presets and 375+ tempo-synced loops organized into straight and triplet rhythms. The loops, provided in menu and single loop presets, allow users to easily mix and match stems seamlessly to create complex percussion beds.

Master Sessions: Ethnic Drum Ensembles is offered as three separate products: 1. Ethnic Drum Ensembles – Kits, 2. Ethnic Drum Ensembles – Loops and 3. Ethnic Drum Ensembles Collection (bundle containing both Kits and Loops).
The included content is complemented by an advanced yet highly intuitive user interface featuring the Stage (Kits and Collection only), advanced Trigger FXTM and Heavyocity's signature PunishTM knob. With Loop Mutator™ technology (Loops and Collection only) users can sequence, re-compose and manipulate loops in new and exciting ways.

Powered by Native Instruments Kontakt 5.3 Full software version, Master Sessions: Ensemble Drums offers all playback and sound shaping functionality through the Full Kontakt 5 version. *Kontakt 5 Player will only allow use of product in demo mode.
The Ethnic Drum Ensembles Collection is available for purchase for $149 USD. A two-week introductory offer is available to existing users of Heavyocity and Heavyocity/Native Instruments products (Master Sessions: Ensemble Drums, AEON, DM-307, The Evolve and Mutations series, Damage, and Komplete Ultimate 8, 9, or 10) for $119 USD.
The Ethnic Drum Ensembles Kits and Loops packs will be available separately for $89 USD.
More information: Heavyocity / Ethnic Drum Ensembles