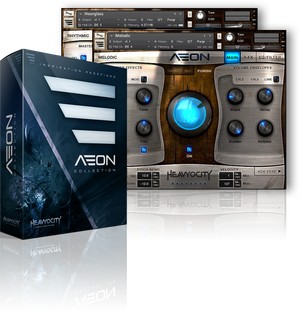 Heavyocity Media has announced the release of AEON, a new collection of deeply-sampled melodic instruments, cutting-edge tonal loops, and epic one-shots for the modern composer.
Created by New York City's premier sound design team, this virtual instrument collection combines orchestral, traditional, and ethnic instruments with analog and digital synths to add a truly unique sound and texture to any musical composition. The AEON Collection is available exclusively at the Heavyocity Media website.

As the successor to Heavyocity's critically acclaimed "Evolve" series and "DAMAGE" percussion library, AEON was developed over the course of 18 months, by employing inventive recording, sound design, and synthesis techniques. The AEON Collection is comprised of two products, AEON Melodic and AEON Rhythmic. The instrument is based on 10,000+ samples meticulously recorded using state-of-the-art equipment, resulting in 27+ GB of source material (compressed to 13GB on disk).

AEON Melodic contains 315 multi-sampled playable instruments comprised of 130+ organic presets, 160+ synths and hybrid presets, and 39 signature AEON Hits. AEON Rhythmic provides 330+ beatsliced melodic loops that can be mixed and matched seamlessly to create complex layered melodic phrases. The included Single Loop presets offer detailed playback control for intuitive sound tweaking and re-composing.

AEON's robust sound is complemented by an intuitive and easy to use interface, including advanced Trigger FXTM, the infamous Punish knob, and the new Twist knob. AEON Rhythmic's Loop Mutator™ enables the user to sequence and re-compose loops in previously unimaginable ways. AEON Melodic's Advanced Arpeggiator enables the user to quickly create motifs and build intricate rhythmic patterns.

As a Kontakt-powered instrument, AEON offers all relevant playback and sound shaping functionality through the free Kontakt 5 Player or full version.
The AEON Collection (AEON Melodic and AEON Rhythmic Bundle) is available to purchase for $399 USD. A two-week introductory offer is available to existing users of Heavyocity and Heavyocity/Native Instruments products (Evolve, Evolve Mutations, Evolve Mutations 2, Evolve Mutations Bundle, Damage, and Komplete Ultimate 8 or 9) for $349 USD.
AEON Melodic and AEON Rhytmic are available separately for $299 USD and $199 USD respectively.
More information: Heavyocity / AEON Collection