Veer is selling a cool Helvetica Coffee Mug, a convergence of good taste.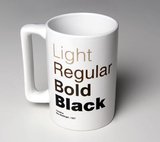 From the product page:
Coffee, like Helvetica, is an acquired taste. To satisfy both habits, this white ceramic mug features four weights of the timeless font – in corresponding caffeinated shades – and a sensibly squared handle. Holds 15 ounces of your favorite beverage but, like the typeface that adorns it, has bottomless potential.
The mug costs $18 USD (only available in North America).
Link via Geek With Laptop