Hercules has announced the release of the Monitor 5, a new and improved speaker for DJs, producers, gamers, and those looking for a better quality speaker at a lower price.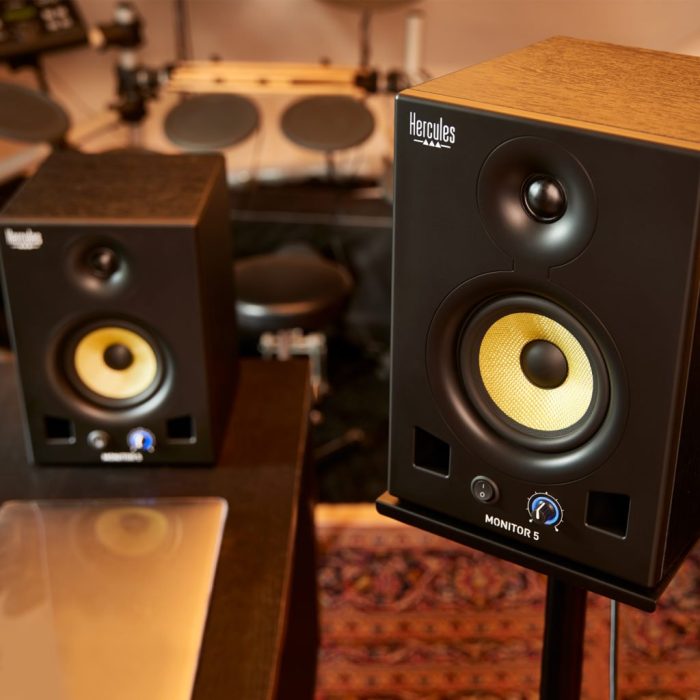 The Monitor 5 is composed of kevlar composite woofers and metal membrane tweeters.
Building on the experience they acquired creating the Hercules DJ Monitor 5 speakers — widely acclaimed by the DJing community for their excellent precision and accessibility — Hercules' engineers took extreme care in developing the Monitor 5, the new generation.

These monitoring speakers each feature a 5-inch/12.7-cm woofer for precise, powerful and versatile performance. They're perfect for learning how to mix, producing your first music tracks, and for multimedia creation as well.
Monitor 5 features
5 inch woofers.
Balanced dual bass ports.
Speaker enclosures crafted of high-density MDF.
80 watts RMS output power per speaker.
RCA, TRS (6.35 mm) and XLR inputs.
Compact design, perfect for any space.
On/Off switch on front of each speaker for easy access.
Master volume knob on front of each speaker for more precise control.
Indicator light in ON position.
High-frequency adjustment: + or – 2 dB.
Low-frequency adjustment: + or – 2 dB.
Adjustable low-frequency cutoff: 56 Hz, 80 Hz or 100 Hz.
The Monitor 5 is available in a two speaker bundle starting at $299 USD.
More information: Hercules