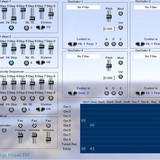 Hervé Noury has announced the release of Hyper FM, a free virtual synthesizer instrument for Windows.
The Six Toungs Hyper FM is a classical FM synthesizer.

The originality of this instrument is the capabilities of the oscillators : several note filtering for the gates, sequencers.

These possibilities provide some very rich possibilities to explore new patches and new combinations of sounds.
Hyper FM is available to download as a freeware VST instrument plug-in for Windows PC.
More information: Hervé Noury