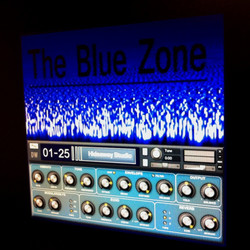 Hideaway Studio has announced The Blue Zone 01-25 Special Edition, a bundle of 25 previously released Blue Zone titles for Native Instruments Kontakt.
In celebration of the first year of the series a Special Edition release of the first 25 incremental releases are presented as one library along with their original audio demos. The instrument names have been prefixed to indicate their release number.

44 bonus layered multis have been included that span across the library – these have been prefixed with TBZxx and include several complex arpeggiated offerings. A "rogues gallery" of much of the equipment used to make TBZ01-25 can also be found in the documentation folder along with some production notes giving clues on what gear was used for each sound.
The Blue Zone 01-25 Special Edition features
1GB of 24-bit samples.
TBZ13 Area_13 "The One That Got Away".
TBZ24 Crystallum Modus.
TBZ25 Snow Flakes.
44 New Layered Multis blending cross library textures with TBZxx prefix.
Original 78 .nkis & 56 .nkms now prefixed for easy identification of release.
Original demos for the first 25 releases (in mp3 format).
28 minute long compilation of select demos from the series (mp3 format).
"Rogues Gallery" of much of the equipment used in the making of the series.
Production release note summary for clues on how each sound was made.
List of instruments and layered multis along with original release dates.
The Blue Zone 01-25 Special Edition is available to purchase for the introductory price of £27.50 GBP until the end of January 2014. Existing customers who have all TBZ packs can purchase a "Booster Pack" at £4.50 GBP.
More information: Hideaway Studio / The Blue Zone Special Edition