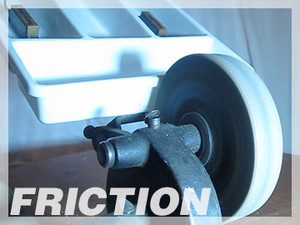 HISS and a ROAR has launched Friction, a new sound fx sample library.
This is a classic HISSandaROAR sound release, a library full of diverse sounds created via friction of physical objects – useful as practical sound effects elements as well as for more abstract design work.

Props and techniques include wet thumb rubs on timpani, wood scrapes on glass, hand cranked grinders applied to a range of objects, an antique mortar and pestle, squeaks & shrieks of fingers on steamy glass, shoe squeaks on wet lino & sandpaper grinds….
Friction features
24bit 192kHz.
1,870 stereo sounds in 144 .WAV files.
7.6GB download, 13.8GB uncompressed.
The sound library is available to purchase for the introductory price of $66 USD until August 24th, 2013 (regular $99 USD).
More information: Hiss and a Roar / Friction