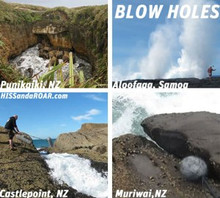 HISS and a ROAR has announced the release of Blow Holes, its first ambience library.
When the power of an incoming tide becomes constricted some awe inspiring sounds result!

Recorded in four different locations in New Zealand and Samoa, the library includes some of the most turbulent sea inlets and blow holes in the Pacific.
Blow Holes is a 1.52GB download (2.17GB uncompressed, 24bit 96kHz), priced at $49 USD.
More information: HISS and a ROAR