HISS and a ROAR has announced the release of Liquids, a sound fx library featuring various sounds from cute bubbles perfect for a video game to aggressive water blaster sounds that make you think of rocket engines.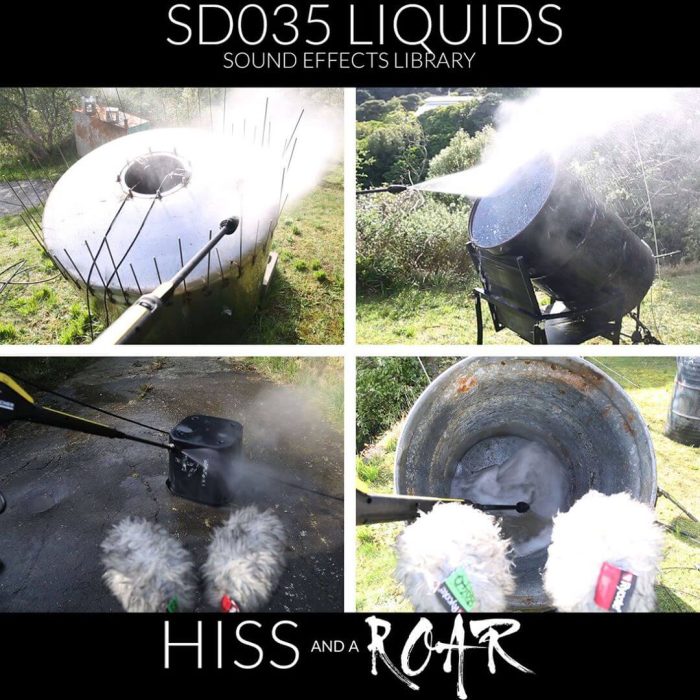 While this library contains some very useful exterior footsteps and movement in water, wet clay, wet grass and mud we decided on LIQUIDS as a title that encompasses a broader range of liquid sounds. Starting with a baffled high pressure pump we were able to perform with a water blaster in relative exterior isolation, but even then could not have predicted the sounds generated when blasting 44 galloon drums, metal cabinet or our XXXXL waterphone – check out the video for examples!

Next we pursued more intimate liquid sounds in our foley room, recording with a tiny pair of DPA 4060 mics inside vessels as well as MKH8040 pair outside. Air bubbles through water were captured at various scales, while strange sloshy sounds were captured performing with rubber gloves and large balloons filled with water. Finally we attempted to recreate the beautiful sounds of a Suikinkutsu, using two vintage milk cans and an improvised 'dripper'. The result is a 9.4GB library of inspiring and unique high resolution sounds!
The library costs $79 USD. Use coupon code BLASTER to get a 33% early bird discount. Offer expires September 30th.
More information: HISS and a ROAR