Hiss and a Roar has launched Mechanism, a 20+GB sound library featuring the sounds of motors and machines.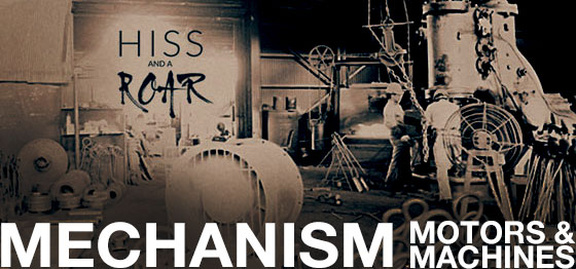 We've spent the last three months researching, sourcing & recording machines: From a pneumatic blast furnace to a century old guillotine, workshop power tools, antique clockwork Meccano engines and a Mamod model steam engine, domestic hand tools, sewing machines, a tortured battery drill as well as more contemporary tools such as a CNC Router and a 3D printer.

Captured multi channel using Sennhesier MKH8040 ORTF stereo, MKH8050 and AKG D112 microphones, as well as contact mics this library is epic: over six hours of multitrack audio 20.4GB of 24bit 96khz audio (13GB download) and a huge creative resource for practical & creative sound design.
The library is available for purchase for the introductory price of $99 USD until March 6th, 2015 (regular $179 USD).
More information: Hiss and a Roar / Mechanism