HISS and a ROAR has announced the release of Quadcopter UAV Drone, a sound fx sample pack.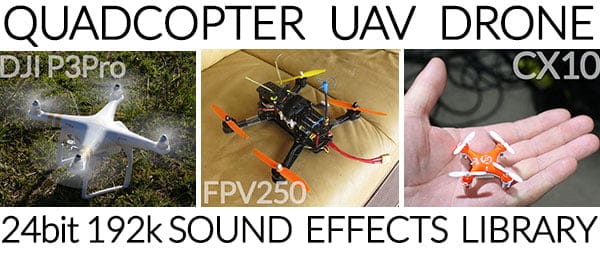 Drones, quadcopters & UAVs are starting to appear on our screens, requiring practical sound effects but these amazing little machines are capable of creating unique sounds of their own, ideal for processing, manipulation and sound design!

After ten recording sessions with three UAVS (DJI Phantom 3 Pro, FPV 250 Racing Quad and a CX10 Toy) we're proud to announce the release of this new FX library, featuring take off, hover, close moves, doppler passbys, ascent, descent and overhead perspective moves… 7.8GB of 24bit 192kHz audio (5.6GB download)
The sample pack is available for purchase at $49 USD for a limited time (regular $99 USD).
More information: HISS and a ROAR / Quadcopter UAV Drone