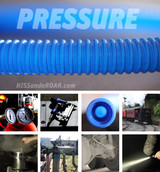 HISS and a ROAR has announced the release of SD005 PRESSURE, a sound fx library featuring a collection of recordings of air and steam powered devices.
We all know sound occurs through the vibration of air molecules, but what happens when you deliberately manipulate the pressure? We've employed a vast range of devices for exactly that purpose: a five ton steam engine, an air compressor with many different attachments, truck air brakes, a domestic pressure cooker, spray cans, fire extinguishers, balloons, shaken up soda cans, paint ball guns & the most essential device of all; the human breath!

Every one of these devices provides a unique source of design material, whether its many varied forms of aggressive attack, or the sustained shriek & decay as the pressure drops… Use these as elements in their own right or convolve them with your favourite source material or impulse responses – the noise component means they cut through even the densest mixes. We also took the opportunity to record some very interesting ambiences – air hissing through a variety of pipes…
SD005 PRESSURE is available to purchase in various formats starting at $9 USD. A free collection of 67 sounds (16 bit/44.1kHz) is available to download from the product page.
More information: HISS and a ROAR / SD005 PRESSURE