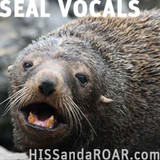 HISS and a ROAR has released Seal Vocals, a sample library featuring recordings of seals.
Creature vocals are some of the most difficult material to design due to their subjective nature, but one resource that can really help is access to unique new source material. With this knowledge I set about capturing close up vocalisations of Fur Seals at the colony in Cape Palliser, New Zealand.

The seals ranged from ferocious gutteral sounding 160kg males through to uniquely screechy, bitey adolescents (my Rycote got bitten at least a dozen times!) I carefully tracked the weather, tides & swell, and used a Sennheiser MKH70 mic to isolate the vocals as much as possible from the background ambience.
Seal Vocals libraries
MAX — 24bit 96kHz • 210 sounds • 395MB download, $49 USD
MID — 24bit 48kHz • 40 sounds • 43MB download, $29 USD
LITE — 16 bit 44.1kHz • 20 sounds • 11MB download, $9 USD
FREE — 16 bit 44.1kHz • 5 sounds • 4MB download
More information: HISS and a ROAR / SD003 Seal Vocals