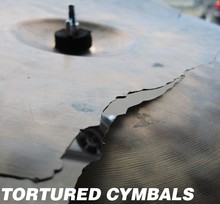 HISS and a ROAR has announced the release of Tortured Cymbals, a 10 GB sound design library.
Just how many ways can you torture a cymbal? Well…. I set out on a year long journey to find out! I started off bowing them, progressed to manipulating them with hand tools and electric drills and ended up bending, breaking, dropping, throwing & eventually destroying them… all in the name of providing diverse & unique source material for you!

This library includes an incredibly diverse collection of tonal & atonal sounds (great food for granular processing!) ranging from the shrill to the subsonic, as well as some very strange textures and uniquely percussive impacts! The contrast between the synchronous dual contact mic and stereo high resolution Sennhesier MKH80X0 mics could not be starker.
Tortured Cymbals features
1,865 sounds in 138 .WAV files.
24bit 96kHz.
5.6 GB download, 10.1 GB uncompressed.
The sample library is available to purchase for the introductory price of $79 USD through November 16th, 2012 (regular $99 USD).
More information: HISS and a ROAR / Tortured Cymbals