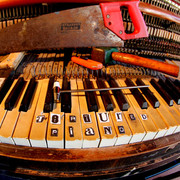 HISS and a ROAR has announced the release of its Tortured Piano sample library.
There is nothing sadder than the death of a musical instrument, but this broken old piano was deceased long before I got it. So my mission was to immortalise its final sounds as it was struck, scraped, twanged, hit and slowly deconstructed to a pile of kindling and broken wires. And then a wake was held….

The resulting library is an incredibly diverse collection of disturbing and unsettling sounds, perfect for evocative sound design but also useful for many practical applications: some of the wood creaks, shrieks, hits & splits are particularly resonant, while many of the metal-on-wood scrapes are prime source material for woosh creation.
Tortured Piano features
24bit 192kHz stereo.
1,143 sounds.
3.7GB download, 7.3GB unrar'd.
Tortured Piano is available to purchase for the introductory price of $79 USD until May 20, 2011 (regular price $99 USD).
More information: HISS and a ROAR / Tortured Piano