HISS and a ROAR has launched a sound effect library that offers the sounds of truck horns.
For Truck Doppler Horns, Tim Prebble put up a sign saying TOOT! on State Highway 1's Desert Road and captured truck doppler horns ranging in performance from a friendly toot, to an apocalyptic blast from 25m away, sustaining right past the mics.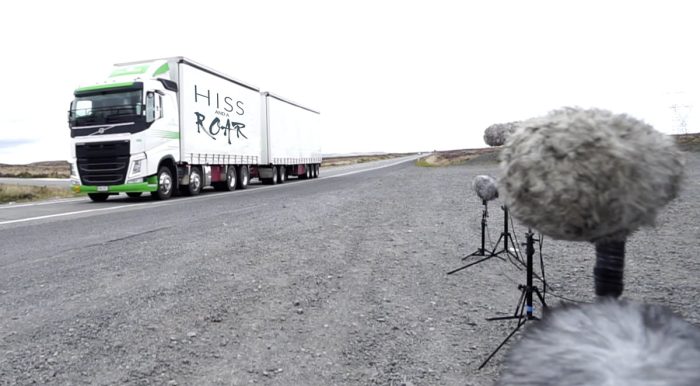 If you are a Sound Effects Editor you will know there are certain sounds that are tired, over-used cliches. While the Wilhelm at least has some historical significance, some other sounds from old CD sound libraries still get trotted out and for anyone striving for unique, original soundtracks they are painful to the creative psyche… Example #1: the Doppler Truck Horn

While the idea and typical application for this sound is very useful, having only one take has meant the same sound effect keeps appearing, to the point of cliche.
So we set out to hammer a nail into its coffin.
The 3.3GB sound library includes 252 stereo .WAV files (24bit/96kHz).
SD033 Truck Doppler Horns costs $49 USD. Use coupon TOOT at checkout to save 33% off (expires April 7th).
More information: HISS and a ROAR