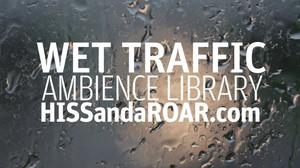 HISS and a ROAR has announced the release of Wet Traffic, a 11.3GB ambience sample library featuring 93 recordings of traffic on wet roads.
This is a library I have needed myself dozens of times: traffic in a rainy city!

Compiled from over ten hours of recordings and delivered 24 bit 96kHz in dual stereo (ORTF 8040 pair and MKH70 discrete) each track in this library has a minimum duration of 3 minutes and includes locations from inner city, suburbia and motorways, with various densities (busy rush hour, medium/light and single passbys) and a range of degrees of road dampness.

Bring your rainy city ambiences to life!
The sample library costs $49 USD. For the first 24 hours Wet Traffic is on sale for $33 USD.
More information: HISS and a ROAR / Wet Traffic