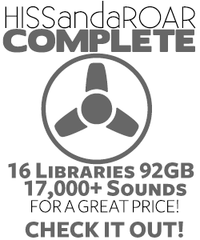 HISS and a ROAR has announced the availability of a new bundle of all its sample libraries.
I've had a number of people recently contact me enquiring about buying ALL of the HISSandaROAR libraries at once… And since I worked out a great deal for them I thought I'd share it with you;

16 Libraries + 92GB of high rez highly malleable sounds = over 17,000 sounds!

Give your library a massive upgrade: BUY NOW for US$750
Those who already own one or more libraries can contact HISSandaROAR for an even better deal.
More information: HISS and a ROAR