Hit'n'Mix of the hugely popular PhotoScore and AudioScore software has announced the release of Infinity 4.5, a major, free update to its innovative new atomic audio editor.
Infinity allows you to unlock audio like never before – working with the actual notes, harmonics and unpitched sounds that it's constructed from – no difficult edits on waveforms and frequency spectrums, audio begins to feel like it's MIDI.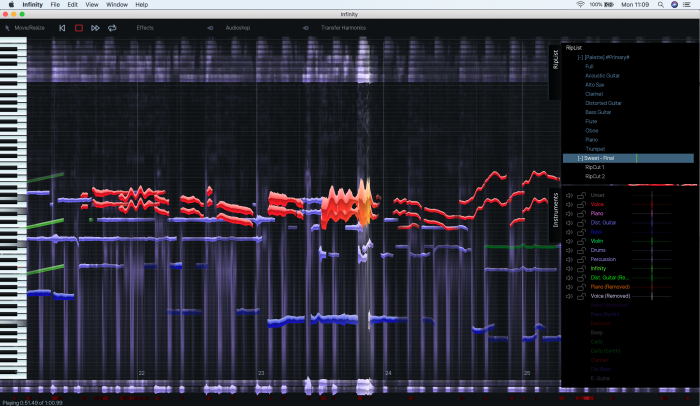 Infinity 4.5 now offers the ability to rip and export video and MIDI files, import and paint your own samples into rips via the Instrument Palette, auto-detect and set BPMs/tempo/scales/keys, remove background and foreground noise, plus a whole host of other audio processing and workflow improvements.
These upgrades further increase the massive time and effort savings already provided by Infinity, making it a powerful 'one-stop shop' for automatic, manual and creative time, pitch & loudness editing for the clean-up of vocals, instruments, dialog and sound effects.
Martin Dawe, CEO of Hit'n'Mix Ltd comments:
"Infinity is the culmination of 17 years of research and we're really excited to be offering a new audio editor that unlike other editors, doesn't work on samples and waveforms, but instead breaks down the audio into the individual components of frequency, amplitude and harmonics. This enables you to change most characteristics without any kind of limit, hence the name Infinity!

Additionally, Infinity lets you import, or as we call it, 'rip' pre-mixed audio files, separate them into different tracks, edit them as you wish and then export them either in the original file format, or a whole host of other formats. In 4.5, you can even rip video files so we're really looking forward to seeing how audio and video editors utilise this, as well as the many other new additions to the software!"
Changes in Infinity 4.5
Rip and export video (MAC only), MIDI and other file formats.
Import your own samples into rips via the Instrument Palette.
Remove background and foreground noise.
New Draw Instrument, Replace Instrument, Cutter and Join Tools added to Audioshop.
Enhanced editing capabilities – selection, zooming, plus setting loop markers, bars and grids.
Auto-detect and set scale/key changes.
Improved BPM/tempo detection and customisation.
Various RipScript enhancements.
Infinity for Windows and Mac is available for a RRP of $349 USD / 339 EUR / £299 GBP. In celebration of the update, Hit'n'Mix is offering a 20% discount throughout March 2020.
Infinity 4.5 is a free update for existing owners. A 1-month free trial license for Infinity can be obtained from the website, along with demos and tutorial videos.
More information: Hit'n'Mix